Part # / SKU: CBID-2
Brand: Mako
Regular price
Sale price
$33.88 USD
Unit price
per
Sale
Sold out
Stock Available: 41
Compatible Vehicles
| Year | Make | Model | Trim | Engine |
| --- | --- | --- | --- | --- |
| 1997 | Honda | Passport | EX Sport Utility 4-Door | 3.2L 3165CC V6 GAS SOHC Naturally Aspirated |
| 1997 | Honda | Passport | LX Sport Utility 4-Door | 3.2L 3165CC V6 GAS SOHC Naturally Aspirated |
| 1997 | Isuzu | Rodeo | LS Sport Utility 4-Door | 2.6L 2559CC l4 GAS SOHC Naturally Aspirated |
| 1997 | Isuzu | Rodeo | LS Sport Utility 4-Door | 3.2L 3165CC V6 GAS SOHC Naturally Aspirated |
| 1997 | Isuzu | Rodeo | S Sport Utility 4-Door | 2.6L 2559CC l4 GAS SOHC Naturally Aspirated |
| 1997 | Isuzu | Rodeo | S Sport Utility 4-Door | 3.2L 3165CC V6 GAS SOHC Naturally Aspirated |
| 1996 | Honda | Passport | DX Sport Utility 4-Door | 2.6L 2559CC l4 GAS SOHC Naturally Aspirated |
| 1996 | Honda | Passport | EX Sport Utility 4-Door | 3.2L 3165CC V6 GAS SOHC Naturally Aspirated |
| 1996 | Honda | Passport | LX Sport Utility 4-Door | 3.2L 3165CC V6 GAS SOHC Naturally Aspirated |
| 1996 | Isuzu | Rodeo | LS Sport Utility 4-Door | 2.6L 2559CC l4 GAS SOHC Naturally Aspirated |
| 1996 | Isuzu | Rodeo | LS Sport Utility 4-Door | 3.2L 3165CC V6 GAS SOHC Naturally Aspirated |
| 1996 | Isuzu | Rodeo | S Sport Utility 4-Door | 2.6L 2559CC l4 GAS SOHC Naturally Aspirated |
| 1996 | Isuzu | Rodeo | S Sport Utility 4-Door | 3.2L 3165CC V6 GAS SOHC Naturally Aspirated |
| 1995 | Honda | Passport | DX Sport Utility 4-Door | 2.6L 2559CC l4 GAS SOHC Naturally Aspirated |
| 1995 | Honda | Passport | EX Sport Utility 4-Door | 3.2L 3165CC V6 GAS SOHC Naturally Aspirated |
| 1995 | Honda | Passport | LX Sport Utility 4-Door | 3.2L 3165CC V6 GAS SOHC Naturally Aspirated |
| 1995 | Isuzu | Rodeo | LS Sport Utility 4-Door | 2.6L 2559CC l4 GAS SOHC Naturally Aspirated |
| 1995 | Isuzu | Rodeo | LS Sport Utility 4-Door | 3.2L 3165CC V6 GAS SOHC Naturally Aspirated |
| 1995 | Isuzu | Rodeo | S Sport Utility 4-Door | 2.6L 2559CC l4 GAS SOHC Naturally Aspirated |
| 1995 | Isuzu | Rodeo | S Sport Utility 4-Door | 3.2L 3165CC V6 GAS SOHC Naturally Aspirated |
| 1994 | Honda | Passport | DX Sport Utility 4-Door | 2.6L 2559CC l4 GAS SOHC Naturally Aspirated |
| 1994 | Honda | Passport | EX Sport Utility 4-Door | 3.2L 3165CC V6 GAS SOHC Naturally Aspirated |
| 1994 | Honda | Passport | LX Sport Utility 4-Door | 3.2L 3165CC V6 GAS SOHC Naturally Aspirated |
| 1994 | Isuzu | Rodeo | LS Sport Utility 4-Door | 2.6L 2559CC l4 GAS SOHC Naturally Aspirated |
| 1994 | Isuzu | Rodeo | LS Sport Utility 4-Door | 3.2L 3165CC V6 GAS SOHC Naturally Aspirated |
| 1994 | Isuzu | Rodeo | S Sport Utility 4-Door | 2.6L 2559CC l4 GAS SOHC Naturally Aspirated |
| 1994 | Isuzu | Rodeo | S Sport Utility 4-Door | 3.2L 3165CC V6 GAS SOHC Naturally Aspirated |
| 1991 | Isuzu | Trooper | LS Sport Utility 4-Door | 2.6L 2559CC l4 GAS SOHC Naturally Aspirated |
| 1991 | Isuzu | Trooper | LS Sport Utility 4-Door | 2.8L 2827CC V6 GAS OHV Naturally Aspirated |
| 1991 | Isuzu | Trooper | S Sport Utility 4-Door | 2.6L 2559CC l4 GAS SOHC Naturally Aspirated |
| 1991 | Isuzu | Trooper | S Sport Utility 4-Door | 2.8L 2827CC V6 GAS OHV Naturally Aspirated |
| 1991 | Isuzu | Trooper | SE Sport Utility 4-Door | 2.6L 2559CC l4 GAS SOHC Naturally Aspirated |
| 1991 | Isuzu | Trooper | SE Sport Utility 4-Door | 2.8L 2827CC V6 GAS OHV Naturally Aspirated |
| 1991 | Isuzu | Trooper | XS Sport Utility 4-Door | 2.6L 2559CC l4 GAS SOHC Naturally Aspirated |
| 1991 | Isuzu | Trooper | XS Sport Utility 4-Door | 2.8L 2827CC V6 GAS OHV Naturally Aspirated |
| 1990 | Isuzu | Trooper | LS Sport Utility 4-Door | 2.6L 2559CC l4 GAS SOHC Naturally Aspirated |
| 1990 | Isuzu | Trooper | LS Sport Utility 4-Door | 2.8L 2827CC V6 GAS OHV Naturally Aspirated |
| 1990 | Isuzu | Trooper | RS Sport Utility 2-Door | 2.6L 2559CC l4 GAS SOHC Naturally Aspirated |
| 1990 | Isuzu | Trooper | RS Sport Utility 2-Door | 2.8L 2827CC V6 GAS OHV Naturally Aspirated |
| 1990 | Isuzu | Trooper | S Sport Utility 4-Door | 2.6L 2559CC l4 GAS SOHC Naturally Aspirated |
| 1990 | Isuzu | Trooper | S Sport Utility 4-Door | 2.8L 2827CC V6 GAS OHV Naturally Aspirated |
| 1990 | Isuzu | Trooper | XS Sport Utility 4-Door | 2.6L 2559CC l4 GAS SOHC Naturally Aspirated |
| 1990 | Isuzu | Trooper | XS Sport Utility 4-Door | 2.8L 2827CC V6 GAS OHV Naturally Aspirated |
| 1989 | Isuzu | Trooper | LS Sport Utility 4-Door | 2.6L 2559CC l4 GAS SOHC Naturally Aspirated |
| 1989 | Isuzu | Trooper | LS Sport Utility 4-Door | 2.8L 2827CC V6 GAS OHV Naturally Aspirated |
| 1989 | Isuzu | Trooper | RS Sport Utility 2-Door | 2.6L 2559CC l4 GAS SOHC Naturally Aspirated |
| 1989 | Isuzu | Trooper | RS Sport Utility 2-Door | 2.8L 2827CC V6 GAS OHV Naturally Aspirated |
| 1989 | Isuzu | Trooper | S Sport Utility 4-Door | 2.6L 2559CC l4 GAS SOHC Naturally Aspirated |
| 1989 | Isuzu | Trooper | S Sport Utility 4-Door | 2.8L 2827CC V6 GAS OHV Naturally Aspirated |
| 1989 | Isuzu | Trooper | XS Sport Utility 4-Door | 2.6L 2559CC l4 GAS SOHC Naturally Aspirated |
| 1989 | Isuzu | Trooper | XS Sport Utility 4-Door | 2.8L 2827CC V6 GAS OHV Naturally Aspirated |
| 1988 | Isuzu | Trooper | LS Sport Utility 4-Door | 2.6L 2559CC l4 GAS SOHC Naturally Aspirated |
| 1988 | Isuzu | Trooper | S Sport Utility 2-Door | 2.6L 2559CC l4 GAS SOHC Naturally Aspirated |
| 1988 | Isuzu | Trooper | S Sport Utility 4-Door | 2.6L 2559CC l4 GAS SOHC Naturally Aspirated |
| 1988 | Isuzu | Trooper | XS Sport Utility 2-Door | 2.6L 2559CC l4 GAS SOHC Naturally Aspirated |
| 1988 | Isuzu | Trooper | XS Sport Utility 4-Door | 2.6L 2559CC l4 GAS SOHC Naturally Aspirated |
Honda Passport / Isuzu Rodeo / Isuzu Trooper Center Support Bearing

THIS IS A BRAND NEW AFTERMARKET REPLACEMENT BEARING FOR:
Honda Passport 1994 - 1997, Isuzu Trooper 1988-1991, Isuzu Rodeo 1994 - 1997

OEM Part Numbers: 2905889000, 2-90588-910-0 , 8-97025-752-0, 8-97103-546-1 , 2-90588910-0,
Other part numbers: N215501, N227033, 2115891X
Features: 
Brand new center bearing
1 year warranty
OE Spec
ISO 9001 Quality control
Fast US continental shipping
No hassle returns
Care Instructions

All of our parts are packaged to the best of our ability. If you receive an item with inferior packaging, please let us know so that we can improve the delivery and our service to you as the customer
Shipping & Returns

This item can be returned within 30 days of purchase. You are responsible for returning the item. No returns are accepted if rubber boots have been torn or damaged during installation. Please contact us if you are unsure of fitment prior to purchase
Share
View full details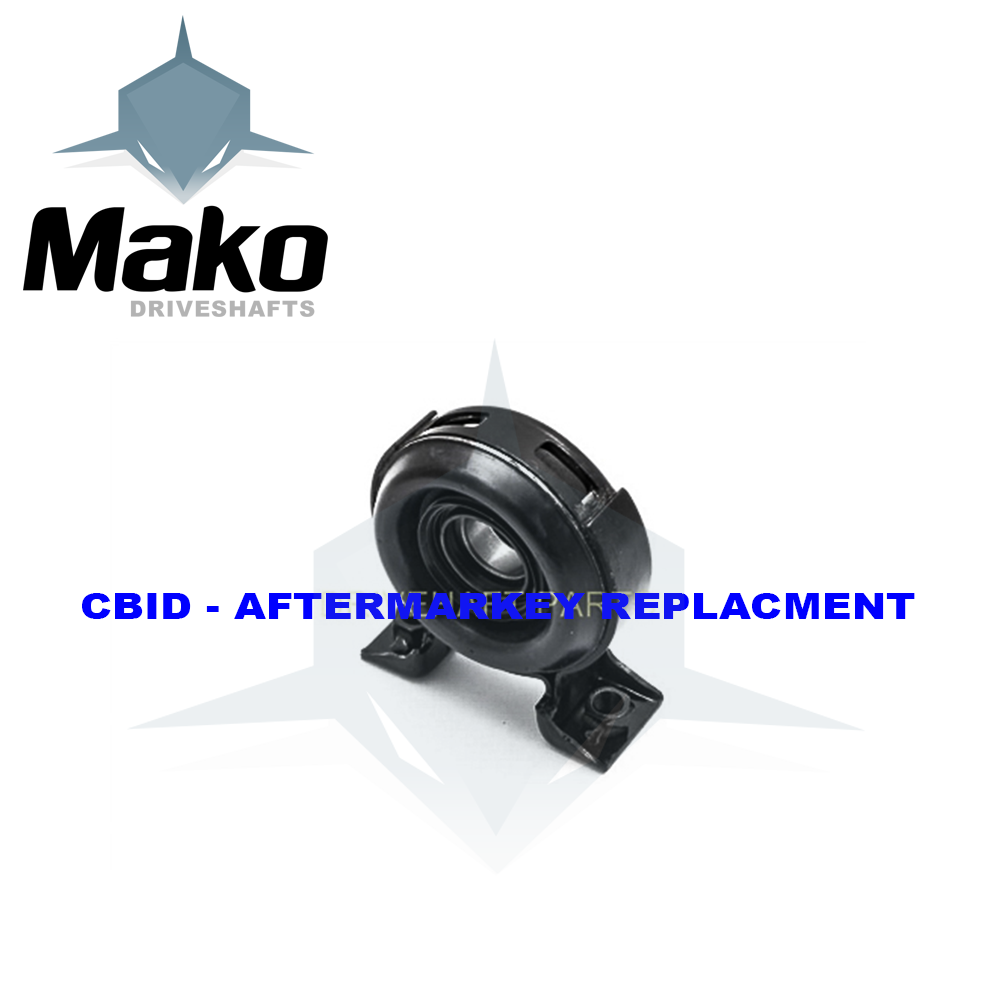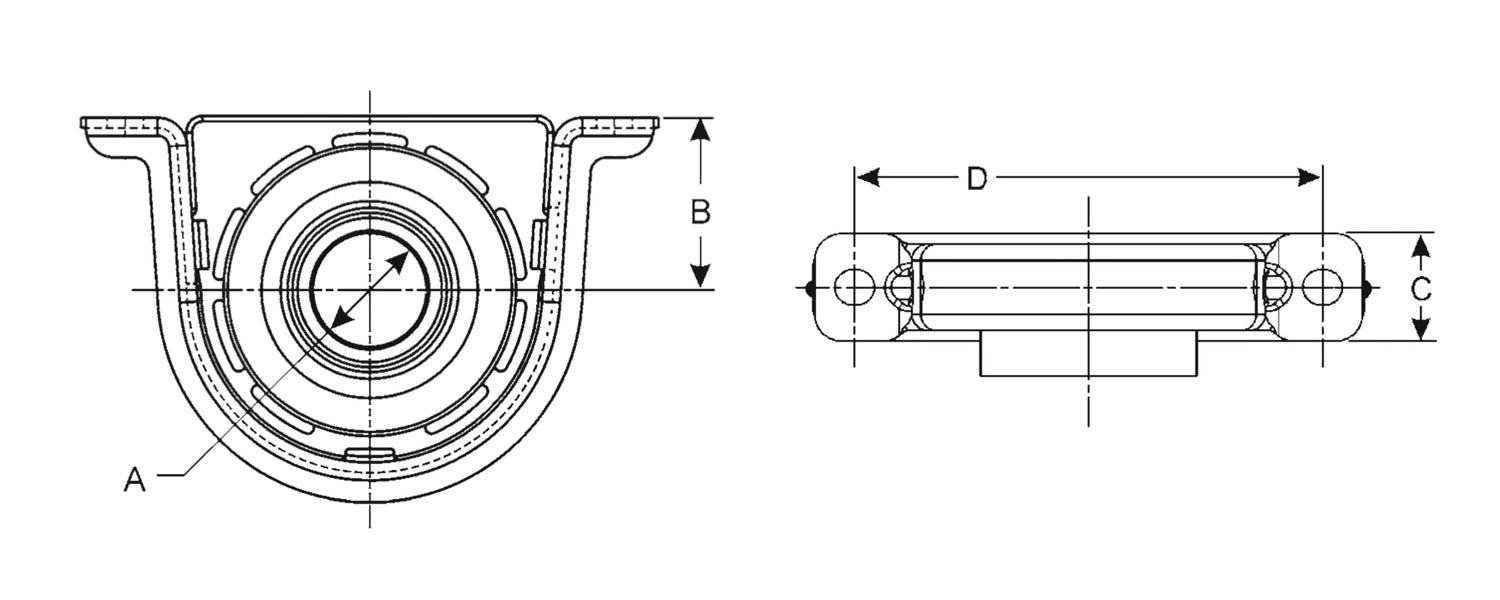 Center Support Bearing Diagram
Check the OEM # of your part before you purchase

If you have no idea what the original part number is for your Driveshaft, CV Joint or Component - contact us for the appropriate diagram or for assistance. We are here to help!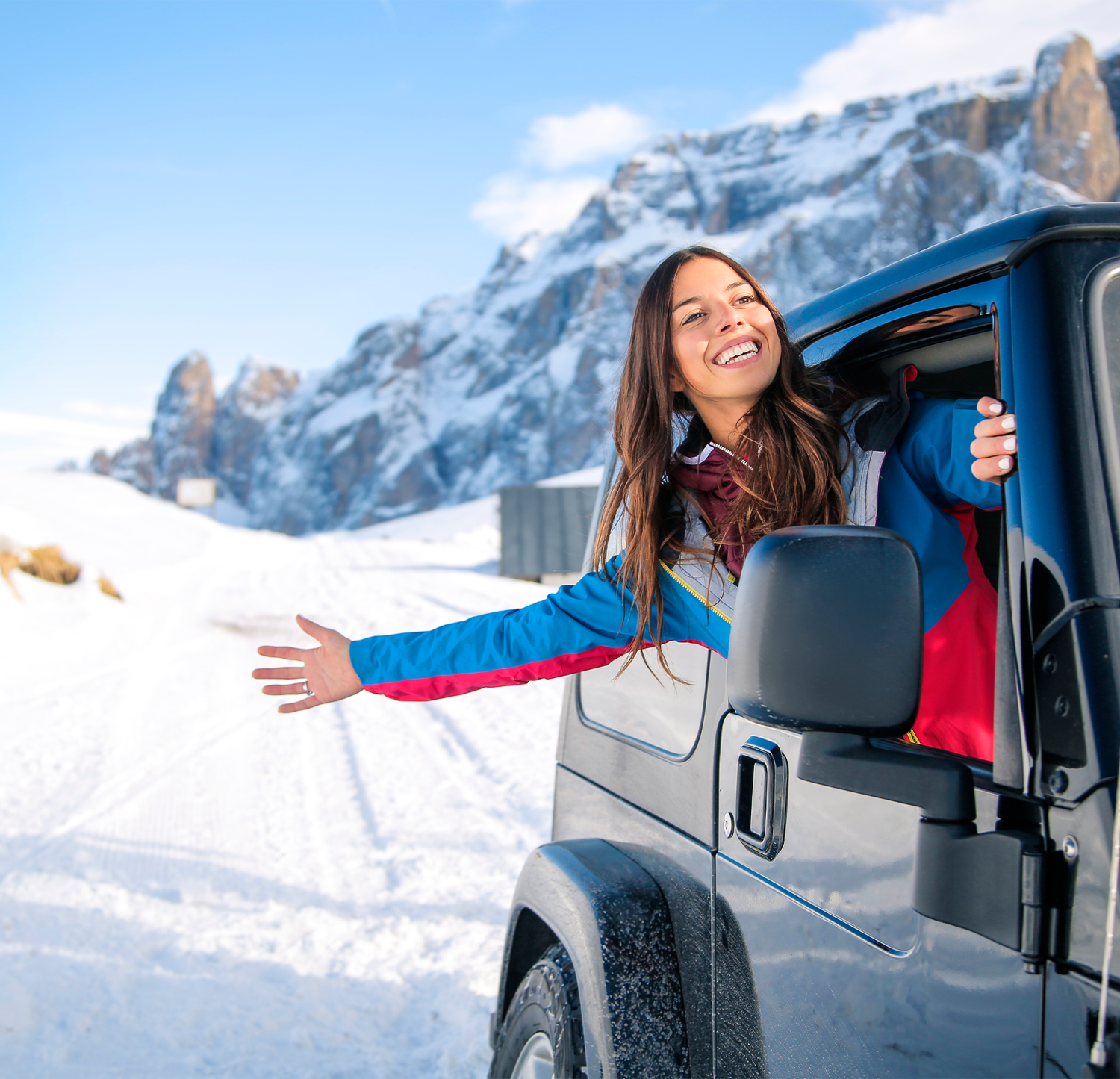 For orders with a cart value over $1000 contact us using the chat button below to reduce your shipping costs using our freight service